1.Joint Research and Compilation Project on "Multilingual Version of Pictopedia of Everyday Life in Medieval Japan"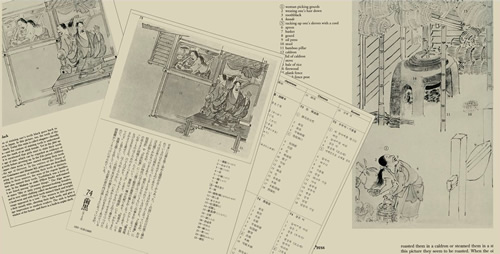 Aim of the joint research project
Of the five volumes of "Multilingual Version of Pictopedia of Everyday Life in Medieval Japan", the first and second volumes were published in our project selected in the 21st Century COE Program,and the third volume was published in the first term joint research project of the Center. Subsequently, the main text of the fourth volume was published in the term four. This research project is aimed at translating and publishing complete translation of whole 5 volumes. We hope that researchers in history, folklore,anthropology,literature and other fields of study will use these 5 volumes of publications to learn about "everyday life" in medieval Japan.
Task assignment for the joint research project
| | |
| --- | --- |
| Research leader | BOCCELLARI John |
| Joint researchers | OGUMA Makoto |
| Visiting researchers | SUZUKI Yoichi |
| Research collaborators | KIMI Yasumichi, HE Bin, LI Li |
2. Research on People's Lives and Customs in Early Modern and Modern China
Aim of the joint research project
This research project studies people's lives and customs in early modern and modern China, building on the activities of the fourth term joint research project titled Groundwork for the Second Phase Compilation of the "Pictopedia of Everyday Life in East Asia (Compiled on South of the Yangzi River, China)." It primarily uses iconographic sources, focusing in particular on "Yingye Xiezhen." Featured serially in the periodical Tuhua Ribao, these images  document various occupations in early 20th-century Shanghai and are illustrated with pictures and commentary. The detailed depiction of a variety of occupations makes them  ideal nonwritten cultural materials for learning about the lives and customs of people in China at a time when the country was transforming into a modern society. Based on these invaluable materials, this research is expected to further enrich our understanding of everyday life in Chinese society.
The study of Yingye Xiezhen involves not only an analysis of the captions but also a comparison with other pictures and photographs. This additional task is expected to yield a more accurate understanding of the contents of the research materials.
Task assignment for the joint research project
Research leader
MATSUURA Satoko
Joint researchers
NAKABAYASHI Hirokazu
Visiting researchers
SUZUKI Yoichi
Research collaborators
YAMAGUCHI Kenji, KIKKAWA Yoshikazu, WANG Jing,
OKI Yasushi, YAN Ming, ZHANG Tao
3. 20th-Century European Popular Culture as Seen through the Media and the Body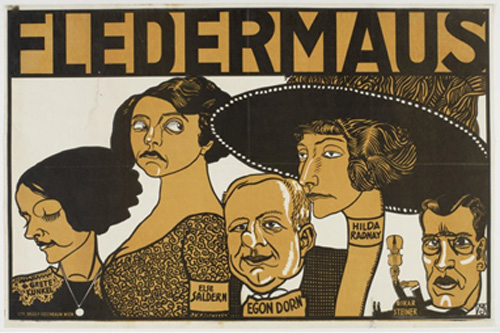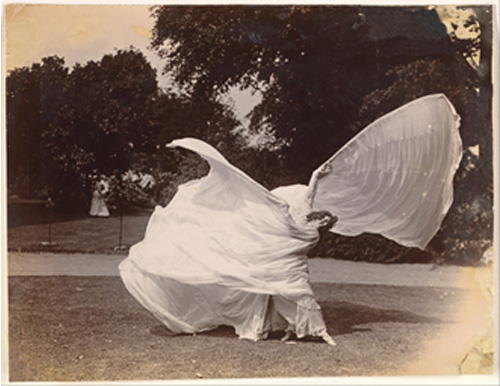 Aim of the joint research project
Mass society that emerged at the end of the 19th century saw technological advances in such areas as publishing and telegraphic communications; it also witnessed the birth and rise of popular culture. Two aspects of this culture were the circulation of images and the new forms of physical expression that became prominent in the performing arts and spectacles. Our previous study analyzed the symbols of modern cities using visual materials. This latest research will examine the relationship between the media and the physical body with an emphasis on the 20th century. In what ways was Europe's traditional or conventional mass culture passed on to the emerging popular culture? How did mass culture change during this process? And how did image, or perception, and the body, which is a direct manifestation of image, integrate despite being mutually incompatible? We address these questions with a focus mainly on Germany and France. In addition to our on-going study of (1) iconographic sources (e.g., pictures, prints, and photographs), we will attempt to analyze (2) the physical techniques that appeared on stage and in films with the aim of introducing fresh perspectives frequently overlooked in joint research.
Task assignment for the joint research project
| | |
| --- | --- |
| Research leader | KUMAGAI Kensuke |
| Joint researchers | BUCHENBERGER Stefan, KAKUYAMA Tomoko |
| Visiting researchers | KOMATSUBARA Yuri, TANAKA Rina |
4. Research on the Development of Cities and Architecture in the Open Ports (International Settlements and Foreign Concessions) of East Asia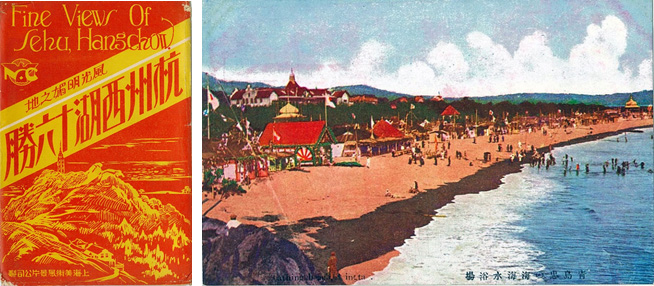 Aim of the joint research project
Our previous research on Japanese activities in the open ports (international settlements and foreign concessions) of East Asia focused on selected Japanese communities located mainly in Shanghai. In fifth term we will additionally include Qingdao and Guangzhou in our study in order to compare North, Central, and South China in terms of the development of cities and architecture in the international settlements.
Notably, we will investigate the history and architecture of the Japanese consulate and Japanese banks, schools, and spinning companies with assistance from the Ocean University of China in Qingdao and Guangdong University of Foreign Studies in Guangzhou. Our study continues to use the resources uncovered in the previous terms of this project, including materials from the Diplomatic Archives of the Ministry of Foreign Affairs of Japan, Shanghai Municipal Archives, and Academia Sinica of Taiwan, newspapers (North China Herald and Shen Bao), magazines (Far Eastern Review, Shina Jihen Gaho, and Shashin Shuho), postcards from the Tsunehiro Kondo Collection at the Research Center for Nonwritten Cultural Materials, Kanagawa University, and photograph books.
Task assignment for the joint research project
| | |
| --- | --- |
| Research leader | SON An Suk |
| Joint researchers | UCHIDA Seizo, MURAI Hiroshi, PENG Guoyue, SUZAKI Fumiyo, KANG Myungchae |
| Visiting researchers | KIKUCHI Toshio, OSATO Hiroaki |
| Research collaborators | TOMII Masanori, TAJIMA Natsuko,BAO Mu Ping |
5. The Reorganization of Religious Services and the Establishment of Japanese Shrines in the Border Areas of Imperial Japan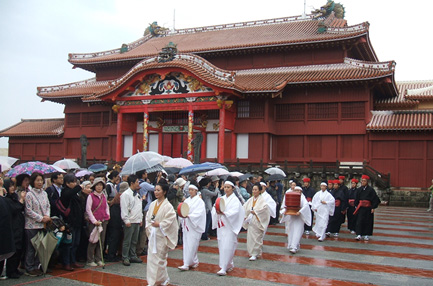 Aim of the joint research project
In the modern era, Japan expanded its borders through colonization and annexation. In Okinawa, the first area to be annexed during this period, the Japanese government reorganized the traditional local spaces of worship, while in Taiwan and other colonies the government built Japanese shrines. Local religious practices were reorganized and many Japanese shrines were built in areas occupied by Imperial Japan. The spread of these overseas shrines reflects the territorial expansion of Japan's sprawling empire. In the areas bordering on naichi (domestic territory) and gaichi (overseas territory), the building of shrines took the form of religious reorganization, as is representative in Okinawa. The case studies of overseas shrines and the imposition of changes in local worshipping practices provide a window into the Empire of Japan.
Building on the overseas shrine research team's perspectives and findings on the progression of religious service reorganization and shrine establishment in modern Okinawa, a border zone between Japan's domestic and overseas territories in modern times, this project seeks to expand the study to include such areas as Hokkaido and Karafuto (Sakhalin). Through these case studies, we consider the meaning of shrines, spaces of worship, and religious service reorganization for Imperial Japan.
The scope of the project includes landscapes, the environment, and iconographic resources. We will collect and analyze the iconographic resources associated with the sites of religious rituals in Imperial Japan to examine their meaning. The main subjects of this joint research are Okinawa and other areas demarcating Japan's naichi from its gaichi. On account of the religion policies in such areas being a relevant historical background to the establishment of overseas shrines, we will also on a supplementary basis carry on the study of overseas shrines launched under the COE program. Our research findings will be published in the form of a photograph book and joint research paper collection, and will also be used to build a database.
Task assignment for the joint research project
Research leader
SHIITADA Atsushi
Joint researchers
OGUMA Makoto, SAKAI Hisanori, SUNAMI Soichiro,
MARUYAMA Yasuaki, YAMAMOTO Shino
Visiting researchers
TSUDA Yoshiki, NAKAJIMA Michio, MAEDA Takakazu,
SUGA Koji, KAJI Yorihito
Research collaborators
INAMIYA Yasuto, MATSUYAMA Hiroaki, KATO Saori
6. Research on Basic Technologies that Apply Machine Learning and Block Chain Designed to Address the Challenges of Distributing Nonwritten Cultural Materials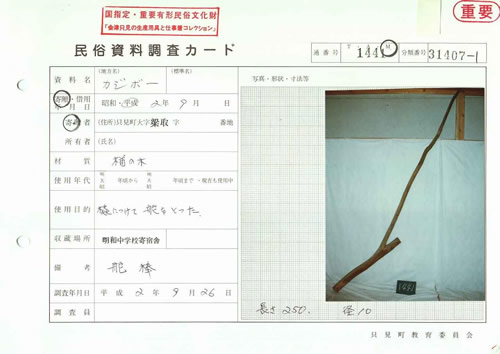 Aim of the joint research project
Research using nonwritten cultural materials involves a process in which researchers gather and organize research materials with cooperation from general information providers, and share their research findings with the public for the benefit of the wider society. This process requires (1) search and mining technologies appropriate to the materiality of the source materials and the tasks involved, and (2) a local currency-like value exchange system based on diverse values that can provide compensation or incentives for managing the personal data of information providers and researchers, important information, and intellectual property rights, as well as for supplying information and performing tasks.
This study applies machine learning and block chain technologies to the basic technologies necessary for (1) distribution and value exchange of knowledge, services, and goods; (2) search and mining of knowledge and services; and (3) management of personal data, important information, and intellectual property rights. Specifically, machine learning is used to establish correlations between research materials, which are necessary for access control, and also to extract data unique to an image, a crucial task in digital watermarking. Block chain technology, on the other hand, is applied to ensure that chronological transactions of content in the distribution process can occur without requiring a credible third party. These transactions include the creation, registration, use, transfer, and secondary use of content.
Task assignment for the joint research project
| | |
| --- | --- |
| Research leader | KINOSHITA Hirotsugu |
| Joint researchers | NOTO Masato, MORIZUMI Tetsuya |
| Visiting researchers | SANO Kenji, MIYATA Sumiko |
| Research collaborators | KOMATSU Daisuke |
7. Research on Wartime Japan's Propaganda Kamishibai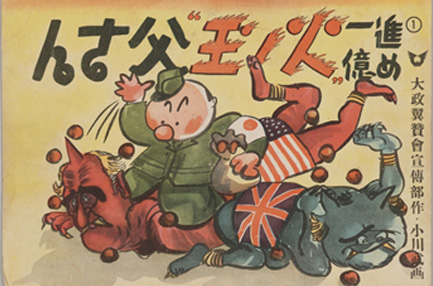 Aim of the joint research project
The purpose of this research project is to examine the structure and functions of wartime popular culture and consider anew the characteristics of wartime society by studying various aspects of war propaganda kamishibai, such as its iconographic depictions, performers, and conditions of performances. Specifically, carrying forward the project's term four findings presented in the report "Japan's Fifteen-Year War Seen from Propaganda Kamishibai," published by Bensei Publishing, Inc. in 2018, our study will endeavor to reveal undiscovered kamishibai and conduct a more extensive analysis into various issues from a broader perspective. First, our study will shed light on regional kamishibai activities by examining, for example, the situation in Hokkaido, which was one of the major kamishibai centers. The analysis of local performers and the roles of local performances remains an on-going work. Second, we will expand the geographical scope of our study of colonial kamishibai, which began with Taiwan, to include the Korean Peninsula, the Japanese occupied territories in China, and Southeast Asia. Third, we will compare propaganda kamishibai with contemporary mass culture, including films, theater, photographs, and comics, in Japan and its colonies. We are planning to share our research findings and discuss the prospects for synthesizing a new research report at academic conferences and symposiums.
Task assignment for the joint research project
Research leader
YASUDA Tsuneo
Joint researchers
OKAWA Hiromu
Visiting researchers
OGUSHI Junji, MORIYAMA Atsushi
Research collaborators
KOYAMA Ryo, ARAKAKI Yumeno, HARADA Hiroshi,
SUZUKI Kazufumi, MATSUMOTO Kazuki, TOMIZAWA Tatsuzo
The following research teams are organized as preparation teams for the Term 6 Joint Research Projects. They have a research period of one year, for the duration of FY2022
【Preparatory joint research project A 】
Research on Sea and Port Canals—Canals in Yokohama and Asia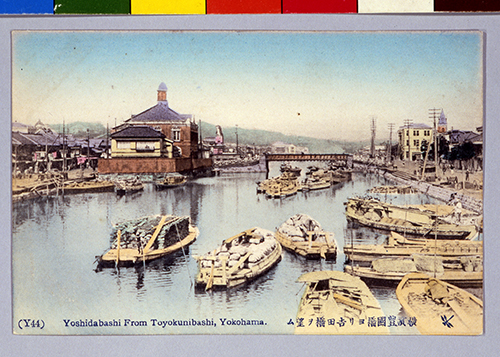 Aim of the joint research project
This joint research project aims to investigate the rapid changes in Yokohama's seaside and canals from the Edo period (1603–1868) to the Meiji period (1868–1912) and throughout the Showa period (1926–89) from the viewpoints of history, architecture, and human geography. Specifically, it will:
(1) Examine the changes in Yokohama's waterfront and canals through photographs of the coastal area of Yokohama in the 1970s recorded by the Mikio Takagi Lab, in the Department of Architecture at Kanagawa University, and study the changes in canals, architecture, fishing, longshoring, and the living environment in relation to changes in the environment and scenery.
(2) Observe the depictions of Yokohama's canals in Yokohama-e woodblock prints produced between the late Edo period and the early Meiji period, and compare them with photographs of Yokohama's canals in the prewar period.
(3) Draw a comparison between the changes in Yokohama's canals and other regions such as the Jiangnan area of China (Shanghai), the Korean Peninsula (Seoul and Busan), and Taiwan (Taipei).
Finally, the project seeks to explore the influence of the seaside and canals on lifestyle, industry, and the environment in Yokohama, Shanghai, Seoul, and other large Asian cities that developed amid great waves of modernization.
Task assignment for the joint research project
| | |
| --- | --- |
| Research leader | UCHIDA Seizo |
| Joint researchers | Son ansuk, YAMAGUCHI Taro, NAKABAYASHI Hirokazu |
| Research collaborators | MATSUMOTO Kazuki, KANAMARU Hisao |
【Preparatory joint research project B】
Systematic Research on Lodgings in Modern Japan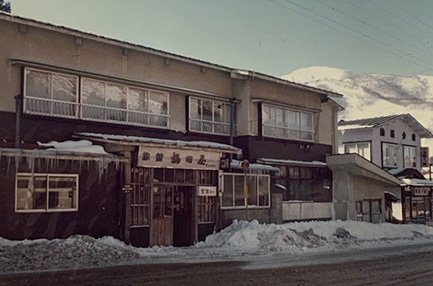 Aim of the joint research project
Travel in Japan gained popularity with the masses with the establishment of kaido roads and shukuba post stations in the Edo period (1603–1868). A substantial body of research results exists on the functions of post stations and the types of lodgings in this early modern period; however, very few systematic studies have been conducted on lodgings in modern Japan onward, such as practices that were carried over or modified. Some literature remains on the advent and expansion of Western-style hotels. Unique accommodations were also set up around new transportation hubs like railway stations, and ports servicing international routes, which emerged in the modern period, but many of them have already vanished without ever being properly documented.
This research team aims to collect basic information on lodgings in modern Japan from nonwritten cultural materials such as illustrations and experiences, organize the data by type, location, function, characteristics, and changes, and by doing so, form a structural understanding of the complete picture. Finally, it seeks to look beyond Japan at lodgings that played a role in the overseas activities of the Japanese in modern times, and shed light on the dynamism of travel through its relationship with lodgings.
Task assignment for the joint research project
| | |
| --- | --- |
| Research leader | YAMAMOTO Shino |
| Joint researchers | MARUYAMA Yasuaki |
| Visiting researchers | KAWASHIMA Shuichi, MATSUDA Mutsuhiko, ZHAO Yi |
【Preparatory joint research project C】
Basic Research on Voice and Body in Artistic Expression
—Performing Art, Classical Entertainment, and Contemporary Art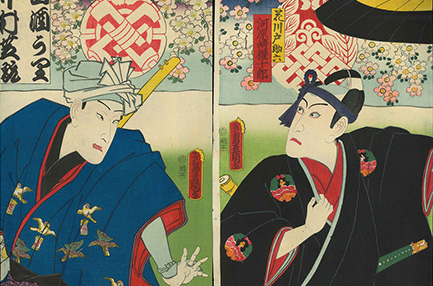 Aim of the joint research project
Under the theme "Basic Research on Voice and Body in Artistic Expression—Performing Art, Classical Entertainment, and Contemporary Art," this joint research preparation team seeks to investigate, analyze, and explore various categories of artistic performance, shining the spotlight on the voice and body. We will observe and analyze stage productions and video recordings, and conduct interviews with performers about the concept, mindset, techniques, training exercises, and live presentation of various genres of performance.
In the first year of the project, we hope to interview actors in contemporary theater, and based on our findings, exchange views among the team members on the abovementioned theme and our awareness of issues, and through this, establish a research method and plan, and conduct research activities from the next year onward.
Task assignment for the joint research project
| | |
| --- | --- |
| Research leader | MATSUMOTO Katsuya |
| Joint researchers | FUJISAWA Akane, MIZUKAWA Hirofumi |